OVERSEAS DEPT.
IMPORT AND EXPORT OPERATION:

Import of FIBC (Flexible Intermediate Bulk Container) from India and from Thailand and supplying to major chemical industries.
Import of general machinery and accessories from Korea and supplying to major chemical industries.
Export of transportation items for Japanese overseas companies
Export of general machinery and accessories to Indonesia through local distributors
Export of construction items to Indonesia and Hong Kong through local distributors

OTHER SECTIONS.
LOCAL OPERATION:
WHOLESALE OF PHYSICAL DISTRIBUTION MATERIALS:

Middle & Small Package:
Steel Drums(Brand new & used), chemical Drums, Stainless Drums,
Poly-Drums, 20 Litter cans, Pail, Metal Package, Plastic Package
Big size Package:
Steel Tanks, Polyethylene Containers, Stainless Containers
Package for powder Substances:
Flexible Containers (one way type & shuttle type), Fiber Drums, Carton Boxes
Stevedoring Instruments:
Pallet (Wooden, Plastics & Steel)
Package Related Machines:
Full Automatic Drum Filling Device with Plug Handling Mechanism., Drums
Cleaning Machines, Stevedoring / Packing Devices
Chemicals, Synthetics Resins:
Organic / Inorganic chemical Materials, Chemical Synthesis, Synthetic@Resin Materials and Products
LEASING DRUMS

Leasing Steel Drums (Brand new & Used)
Leasing stainless Drums (Brand new & Used)
Leasing Flexible Containers
Leasing Tank Containers
Entrusted cleaning of Drums
Truck Transportation
Consistent management of drums from delivery of products to collection of empty@drums under our original total system

TRANSPORTATION BUSINESS:

Our own original system has been established for sale and economical transportation of petrochemical products since foundation in 1964.
TRANSPORTATION OF PETROCHEMICAL PRODUCTS BY TANK TRUCK:

Single Contract: To be transported at anytime and anywhere locally per request.
Exclusive Contract: Recommendable to transport same sort of products repeatedly@and also high products.
60 tank trucks equipped with 6 to 12 kilo liter stainless steel tanks are under operation.
Heat insulated tank trucks are also available.
TRANSPORTATION BY TRUCK

By the nationwide transport network system, transportation of cargos such as drums, various containers,
FIBC (Flexible Intermediate Bulk Container)etc. are also available.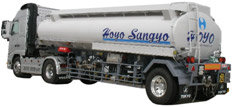 TO DEVELOPMENT AND WHOLESALE OF CONSTRUCTION MATERIALS

Handling High polymer fiber sheets and plastic items to stablize the soil and products development in corporation with
chemical companies.
Item & Application:
High-density Polyethylene Net : Used for embankment and soft ground as reinforcing material.
Layered High-density Polyethylene Net : Used for retaining wall, tunnel, roadbed, and Embankment as drainage material.
Polypropylene Non-woven Sheets : Used for tunnel, roadbed, and embankment as drainage material.
Polyethylene Pipes : Used for general earth works, tunnel, soft ground, waste treatment plant, and roadside as
drainage material.
Soft vinyl chloride sheet : Used for industrial waste plant, agriculture water reservoir, seawall and water embankment, and
factory waste liquid reservoir as preventing water invasion material.